Melbourne Boxing Gym
Boxing – Muay Thai – Kickboxing
---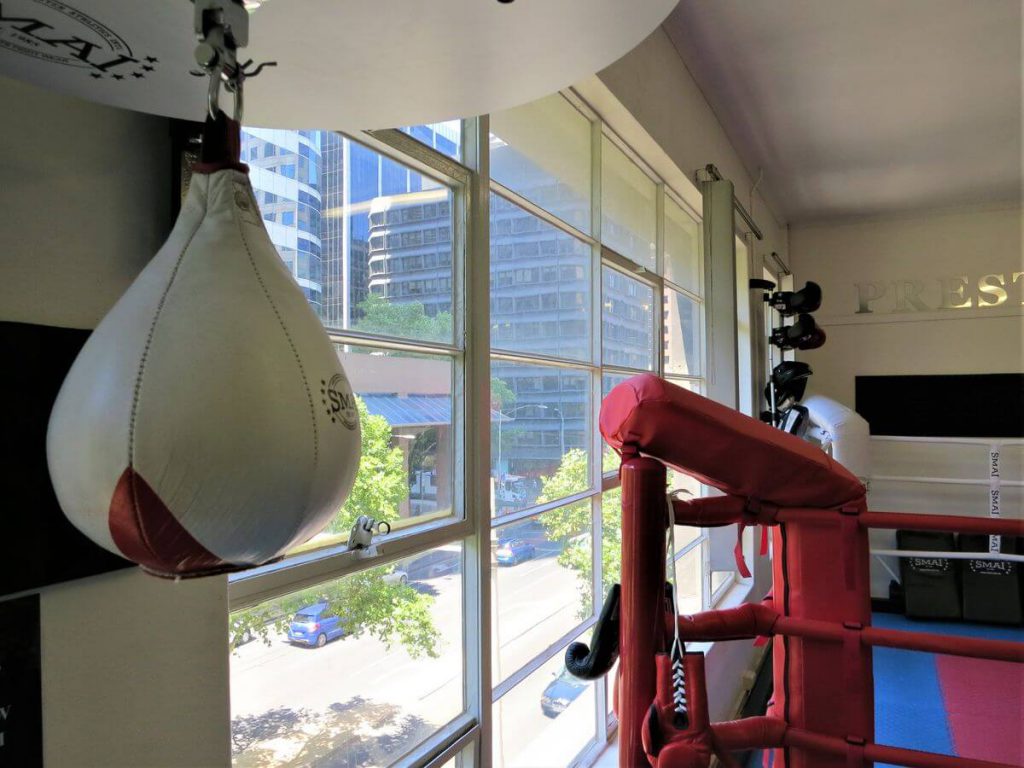 Born from a desire to create an authentic fight gym in Melbourne's CBD, Prestige Gym opened its doors in October 2013. Situated on King Street, two minutes from Southern Cross Station, Prestige is unlike any other city based Melbourne boxing gym.
---
Our intention was to open a training facility orientated towards fighters, but also not neglecting the general public who want to give it a shot and work their way up in the game. Specialising in the striking arts of boxing, Muay Thai and kickboxing, Prestige Gym Melbourne has developed a uniquely effective training approach suitable to all experience levels.
Believing that the right program comes from experience, Predrag, the head coach, has trained with some of the world's best coaches from many different backgrounds. Having competed as a fighter for many years in boxing, Thai Boxing and kickboxing, Predrag developed the Prestige program from a combination of old-school training styles integrated with the most effective methods and sports science.
Prestige Gym is open to the general public. Members are introduced to combat sports, thus finding out whether or not it is suited for them. Our intention is that people can first (without pressure of being rushed into sparring) get a feel for the sport of their choice and begin to understand it. If they like it and want to take the next step, then they'll have the opportunity to do so. This will happen through the correct program and guidance from an experienced coach, who likewise has been guided through his career by skilled professionals with the intention of reaching the highest possible level.
The Prestige method is built around the concept of strong foundations. We find that when a prospect starts off in the wrong way, it generally takes longer to guide them back on to a successful path. That is why you will find a strong emphasis on the fundamentals right form the start at Prestige Gym, a dedicated Melbourne boxing gym that specialises in boxing, Muay Thai and kickboxing.
Vision and Values
At Prestige Gym we set ourselves apart from most other gyms, mainly because of our core vision and values. We are not a fitness centre. Improving your fitness is just the start and will result from rigorous training and commitment.
Moreover, Prestige Gym is a dedicated training gym for anyone that seeks to attain the best within themselves via boxing, Muay Thai or kickboxing.
Prestige Gym is the place for you if you want to:
Compete as an amateur or professional fighter.
Participate in combat sports without competing.
Compete as a mature aged fighter.
Reach higher levels of personal achievement.
Prestige Gym Melbourne will develop your fighting aspirations and competitiveness properly, as a key aim is to produce a high calibre fighters.
We also want to help boxing, Muay Thai and kickboxing to grow as individual sports. This ties into an important element of our philosophy: to provide a clearer understanding of combat sports' role within society.
At the core of all combat sports lies a positive ethos aimed at bringing out the highest human qualities in people. More importantly, combat sports are primarily competitive sports with a defined set of rules to be performed in the ring.
At Prestige Gym we promote this positive spirit of combat sports, which is underpinned by the following principles:
Respect for the disciplines and other competitors.
Personal improvement and greater self-awareness.
Combat sports to be only used for self-defence out of the ring.
Psychological drive and fortitude.
Physical strength as a result and in connection with the above four principles.